I am so excited about my little group of 22 Kindergarteners this year! They are adorable and they have so much personality and spunk! At my school we have phase in days for the Kindergarteners. The parents will bring their children at 8:30 to the gym and they will pick them up at 11:30 that day. We do this for 2 days. On Monday, I had 9 kiddos-3 girls and 6 boys. Oh they were so sweet! On Tuesday, I had 1 boy and 12 girls! Wow! Can we say I have a ton of girls this year or what? It is so funny how sometimes you have grade levels with more of one than the other. Tomorrow, we will use it as a day to assess the students that didn't come for their Kindergarten assessments at the end of the 2012 school year. Since we have to get their cumulative folders started, we will work on those on Wednesday as well. Our students will all come full time beginning Thursday! I can't wait to see them all together and make some group pictures! Does anybody else have phase in days? I did make the frame that everybody did, "1st Day of Kindergarten". I left my camera at school today so hopefully I can put them together in add them here so you can see them! I love taking pictures!
I have also spotted some giveaways and I thought I would share those with you!
teaching, life, and everything in between: Back to School Giveaway!: The kiddos start school a week from Thursday, which, in my opinion is the perfect reason to have a giveaway!! Here's what I have to offer....Winners announced Sept. 6!
Ms. Jones' Junction: 100 Follower Giveaway!!!: I am amazed that I have reached 114 followers since I started my blog in July! I appreciate each and everyone of my followers and I have mad...Ends in 5 days!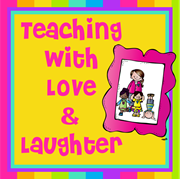 Teaching With Love and Laughter: My new blog design...and a giveaway!: I am so proud to show off my brand new blog design! Thanks to Erika and Misty, I now have an original, one-of-a-kind, blog, that I just...Ends in 5 days!~
Smiling in Second Grade: Another Giveaway!!: Ask and you shall receive! In my laminator giveaway, a lot of you checked out MyBinding.com and mentioned that you would like the Duo Tri...
Tonya's Treats for Teachers: 500 follower MEGA Giveaway!: I know, I have 2 more followers until I reach 500...but I just can't wait any longer! I am beyond excited for this giveaway and so very tha...
Traditions, laughter and happily ever after: 800 Follower Giveaway & other stuff...:  Hey everyone I'm coming up on 800 followers so I thought I would get together with some of my VERY TALENTED teacher friends and host...
To celebrate 100 followers, Katie from Rock & Teach is having a great giveaway!
...
[Glitterfy.com - *Glitter Words*]