Well, today, Monday, was GREAT! I was so proud of my sweet babies! I did not have any criers, which is a good thing since we had 10 days off from school! Yay!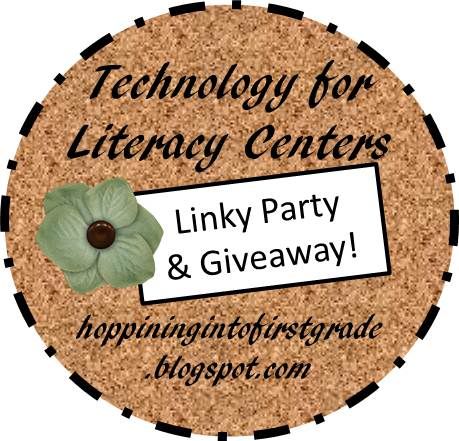 I am joining
Christine's linky party from Hopping into First

. Her linky party is for sharing the ways we use technology during our literacy centers. I was so excited to finally be able and sit down to share some things I do in my classroom during literacy centers. I think my classroom has different technology items for my students to use. However, of course I am wanting to get iPads, iPods. ( I did snatch my son's iPod Touch when he got his new iPhone for Christmas to take to school, but I don't know anything about them-I am pretty much "out of it" when it comes to cell phones and iPods!)
1.) Listening Center
I have two listening centers. In my first listening center, it is the traditional "listening center". After my students listen to a book, they will then discuss the story with their group. This is also a time when they discuss different story elements we are focusing on at that time. They really love listening to stories!
In the second listening center, I use the listening center materials from Lakeshore Learning. I wrote grants at donorschoose.org to get these items and they have been fabulous! I have two different kits. One kit is on word families and the other kit is for phonics center.
2.) SmartBoard

-my kids love, love, love when they get to visit the SmartBoard center. They love being able to play different games from websites, games I have made, or Lakeshore games for the SmartBoard.
3). Computer Center

-First, I only have 2 computers in my room; 1 is hooked to the Smartboard and one isn't. They enjoy getting to use the computer to play online games. Some of their favorites have been starfall.com, abcya.com, scholastic.com and others.
4). Leapsters

-I have 2 Leapsters with different games that I had funded at donorschoose.org! They love using these. Does anyone have headphones to go with yours? I think I need to purchase some and thought I would check.
5). Finally

, I also have 2 Leapfrog Tag Readers-that were again funded via donorschoose.org. The books that I selected were all perfect. I definitely want to write another grant for some new ones!
I did want to mention that I have been extremely lucky with donorschoose.org over the past few years. My first project was funded in August 2007 and I have had many things funded so I can help my students become better and better! If you haven't tried it yet, you should definitely check it out. You never know what YOU could be missing out on!
Thanks Christine for hosting the technology linky party! I can't wait to read what others do during their literacy centers with technology! Christine is also offering a 25.00 giftcard to amazon.com-so be sure to link up and enter! Everybody loves amazon!
Tania from My Second Sense

is giving away her Dr. Jean cd's and a dvd! this is a great one and I know you don't want to miss it! It ends April 23!



Heidi from Swamp Frog First Graders

is giving away a Luna Interactive Projection Camera from Learning Resources...wow, this is a fantastic gift! It ends Friday, April 20!
Emily from Mon "Stars" of 2nd Grade

is giving away certificates to TpT! Who doesn't just love winning those? I know I sure do! The giveaway ends April 21 so don't wait too late!
If you want to have the chance to win some great things, you need to go and check out
Michelle's blog Our Sweet Success!
She will be giving away items from her TpT store when she hits 100 followers on facebook, her blog, and TpT store! Too good to be true!
Tara from Little Minds at Work

is having a "wowwie, wow, wow" giveaway! She is giving away 100.00 gift certificate to Teacher's Pay Teachers! I mean, all I can say is WOW! It ends April 24!
...
[Glitterfy.com - *Glitter Words*]