Gee, I can't believe it is Tuesday! This week is going great so far and I have so many things I want to get done...problem is, getting them done! I hope that you all are getting more things done than I am so far! LOL
Erin from Eberhart's Explorers

has reached 1,000 followers! Wow, that is a great big accomplishment for sure! To celebrate, she is hosting a great big giveaway!
Cheryl from Primary Graffiti is giving away a 25.00 gift card to The Clever School Teacher. It is a great place to buy books for your classroom! Go check the giveaway out! It ends on Saturday!
Mrs. E from The Sweet Life of a Third Grade teacher is having an awesome giveaway! She has lots of friends on board to help....you'll want to go enter before June 28.
Stephanie from Falling into First is having a giveaway to celebrate 100 followers. She has some great friends to help her celebrate! It ends Tuesday, June 26.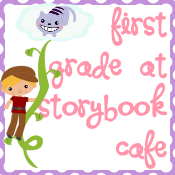 First Grade at Storybook Cafe: Giveaways Galore and My Goals
!: WOW O WOWWIE Have you seen all the really great Giveaways out there? They are all over the place I tell you! (junie has been on my mind of l...
...
[Glitterfy.com - *Glitter Words*]