Holy Smokes! I have just been on my spring break for less than an hour and I am so excited but scared at the same time..................I don't want it to be over too soon! LOL, I read on lots of your blogs about how wonderful spring break was and how quickly it came and went. Well, I kept thinking that I hope my break will s-l-o-w down so I can enjoy it and remember it some! I have big plans for Spring Break-cleaning out and organizing my closets and getting stuff out of here! I wouldn't dare take before and after pictures, but who knows, I might just surprise myself and do it!
Today is finally over and boy I am about whipped! This is how my day went: 5:00 AM, wake up, clean, get ready for school, check emails, out the door at 7:10 AM. 7:15 AM get to school and run around cleaning up and putting things away. See, today is a half day and also Parent Conferences from 12:00-7:00 PM. YES, you read that right! 7:50-My kiddos get to the room around. (Take lunch orders, do calendar, play songs, write thank you letters to the Mom who invited us over for an Egg Hunt on Monday
.
9:10-10:10 go to specials (Computer Lab and Library)
. Not too much time, but we did get to write thank you notes . They will get back from specials, clean up their work areas, get in line to go and get lunch from the cafeteria. We ate in the room-I love bringing the kids to the room to eat lunch-they are soooooo good! (Much better than in the cafeteria!) After lunch is cleaned up, they get out their BEE Books so we can pass out things to go home including their report cards. First time we have ever passed out report cards BEFORE conferences. Anyway, by 11:15 my bus riders were lined up and ready to go. I took my car riders out at 11:30 and they were all gone by 11:45. Conference stories will have to wait. Too tired to think........................LOL but I did want to share some fab giveaways with ya'll!

Kreative in Kinder: Latest Obsession and a SWEET GIVEAWAY!!: I am SO excited to share with you my class's latest obsession toy lifesaver!! Seriously, we are in need of a twelve step program already. ...
Lacey from Wild about Teaching

wants to know.............how would YOU use her latest item in your classroom? Love it..... Hurry, it ends Monday night!
Marlana from Lil' Country Kindergarten
has 500 followers on Facebook! Congrats girl! She's having a giveaway for all the awesome followers! It ends April 10!

This is just too cute!
Randi from Teach it With Class
is having the cutest giveaway with 4 winners! Yep, that's right, I said 4! I sure hope I am one of the 4-I'll find out Monday night!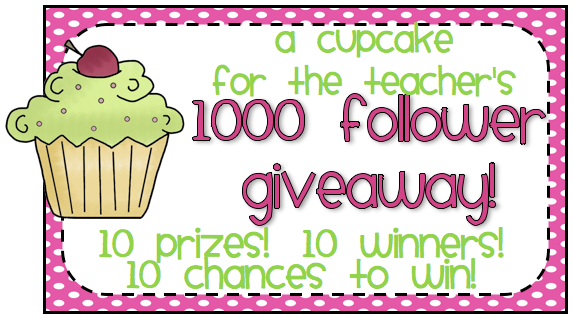 Things in the blog world just keep getting better and better! Be sure to check this site out because
Teri from A Cupcake for the Teacher
is having a fabulous giveaway! She is celebrating 1000 followers! Wow, that is definitely a great big thing to celebrate! I love Teri's TpT stuff; I have bought many of her cute things to do with my Kindergarten kids and they always love them! Her giveaway ends April 10 and the winners announced April 11-the day my sweet baby boy turns 13! Time is flying by!
This is a great giveaway right now going on!

Nicole from Rowdy in Room 300

is giving her followers on her blog and TpT store a tens frame packet. Just send her an email....how easy is that?
Tanya from First Grade is Fantabulous
is celebrating her 1 year blog's anniversary! She has some great prizes-hoping to see my name in lights! It ends Monday, April 9th!
M

arissa from Wild About First Grade

is giving away gift cards to two of her favorite places-mine too! You'll have to go check out her site to see where they are to. Her giveaway ends Sunda night!
[Glitterfy.com - *Glitter Words*]