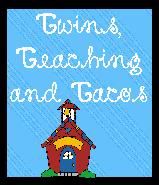 Twins, Teaching and Tacos: Finally a Giveaway!!!!
: As many of you know I recently reached 100 followers and had been planning on a giveaway. Well needless to say it happened to fall on the w...

Kindergarten Korner: 300 Followers Giveaway
: I am SO excited! I have reached 300 followers! Yipee!!! What is even more exciting???? I have some of my FAVORITE bloggers helping me with t...
...